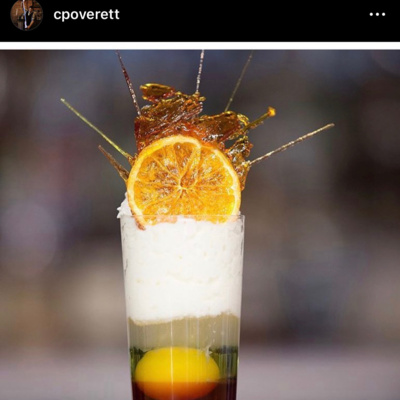 We have a guest today that has been on our show before. He is the Concept Coordinator Union Lodge No. 1, was in the first Garnish Games, works for Liquid Productions (who assist with Tales of the Cocktail) and is a master of craft cocktology. When we recorded with him last time we focused on what he did at Union Lodge No. 1, this time we're going to focus on one of his other accomplishments, culinary school and how being a chef actually helps with craft cocktails.
If you like the show, leave us a review through whichever platform you listen on, AND we promise to not make fun of you OR rate your review on the show. AND SUBSCRIBE
Brad: the entire service industry
Bill: our entire audience (listeners) (I will not be outdone Brad.)
Colin: Therapists Everywhere
Samantha: My Therapist! And our good friend Ashley!
APPETIZER:
Johnson & Wales University-Denver (4.3), Aurora, CO
2 Stars, Google 5 years ago
Beautiful campus and mostly good professors. But way too expensive for what you're getting. The only reason It's getting 2 stars is because of the professors that I personally had. The classrooms were small and personal so the teachers actually knew your name and cared about your success. Other than that, you're bored most of the time and the dorms feel like a high school boarding school. Food was questionable most of the time despite it being a culinary arts school…? Don't go unless you have money to spend and close social connections. Left after one year and don't ever care to look back. Worst social experience I've ever had.
Behind Bars with Bill: Garnishes (specifically blue cheese stuffed olives)
https://punchdrink.com/articles/dirty-martini-blue-cheese-stuffed-olive/
Main Course:
The Bocuse Restaurant (4.6), Hyde Park, NY
3 Stars, Google 4 years ago
I was very excited to try out the Bocuse as I was looking to impress some business guests and had never myself been to a French restaurant that I can recollect. The dishes are very pretty looking but for the most part (what I ordered) I felt was u derwhelming. Service was slow and choppy as can be expected when you are dealing with students so no points deducted there. Everyone was very friendly. My issue was with the food. There are many restaurants in the Hudson Valley that I feel have much more to offer at least for my personal tastes. The black truffle soup I felt was too thin although the puff pastry on top was good. The charcuterie was decent but not top notch. As far as the apps go the risotto was where it was at. I had the beef dinner which was prepare nicely and tasted good but nothing to write home about. The molten lava cake was over cooked and not "molten" at all. Honestly for the price it was worth a try but I don't believe that I would go out of my way to come back again. With that said some of my guests were very happy and would definitely come back so just like many other things it all comes down to the person. Hope this review helps!
HAPPY HOUR:
S'mores White Russian
Vodka, Richardo's Decaf Coffee Liqueur, Marshmallow Syrup, Half and Half, Marshmallow and Graham Cracker Rim
Talking Seasonal Cocktail Menus
DESSERT:
The Bocuse Restaurant(4.6) Hyde Park, NY
1 Star, Google 4 years ago
Very expensive but lousy food. The duck was rubbery. The truffle soup was tasteless and had no truffles. Nice kids but they do not know how to cook.
The Bocuse Restaurant(4.6), Hyde Park, NY
1 Star, Google 3 years ago
Best ever. Service was exceptional. Food a wonderful blend of tastes and textures. So enjoyable!!
—
Send in a voice message: https://anchor.fm/3starspodcast/message